On a few acres of mountaintop in northeastern Pennsylvania, far from the big city lights that normally would be associated with the "sweet science", sits a very important site in the history of boxing. Here Muhammad Ali, arguably the greatest fighter of all time, built a training camp near Deer Lake. He called it "Fighter's Heaven" and trained here for many of his epic battles.
Ali first came to Schuylkill County, Pennsylvania in the early 1970's to train at Pollack's Mink Farm in Deer Lake. Bernie Pollack, who was involved in the fight game, was introduced to Ali by Gene Kilroy, a local native and prominent member of the Champ's entourage. Ali liked the area and purchased the land up Sculps Hill Road in 1972, where he proceeded to build the training camp of his dreams. Ali, himself, hiked the land determining what exactly should be built and where.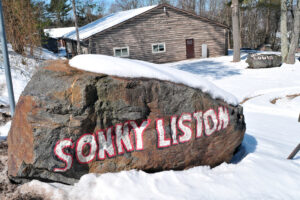 Over time, the rustic camp grew to include some eighteen various buildings. Ali built a large log gym, dining hall, bunkhouses for sparring partners, a small mosque where he would pray daily, and small individual cabins for members of his staff and also for the many special guests that always seemed to show up. In a courtyard situated near the gym and the dining hall, a huge outdoor stone fireplace was built that became a favorite gathering spot for camp residents and visitors alike. Staff members would gather here at night with a roaring fire, stars filling the clear night sky, to enjoy the special camaraderie they shared. Many people associated with Ali recall that their fondest memories were the times spent at Deer Lake. Although now obstructed by grown trees, the courtyard once had a commanding view of the surrounding countryside. Ali had giant boulders trucked in and placed around the camp. His father, Cassius Clay, Sr. (a sign painter by trade), painted on them the names of other famous boxers that Ali admired. The Champ got this idea from Archie Moore's old California training camp, "The Salt Mine", where Ali trained briefly early in his career.
The camp was like a small village and had a special excitement and vitality to it. It was also a magnet for the celebrities of the day. Tom Jones, Jim Brown, The Jackson Five, Andy Warhol, Isaac Hayes, Diana Ross, Howard Cosell, Dick Cavett, Flip Wilson, Kris Kristofferson, Dizzy Gillespie, Leroy Neiman, Doug Henning – they all came to Deer Lake to call on "The Greatest". Former heavyweight champ Larry Holmes got his start there as Ali's sparring partner. So did Tim Witherspoon and Eddie Mustafa Muhammad. When former welterweight champion Kid Gavilan was on hard times, Ali hired him to work at the camp.