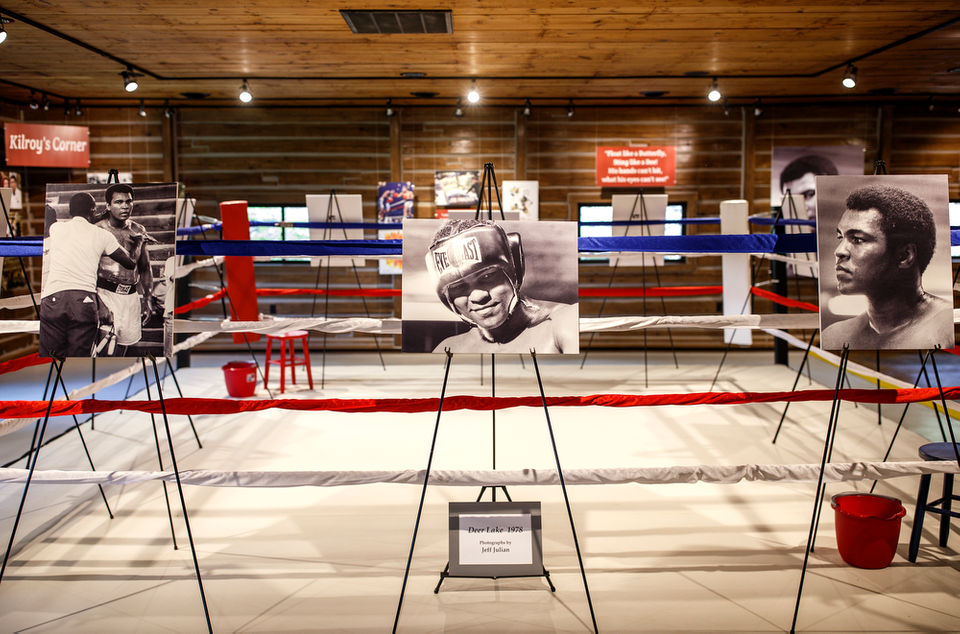 Muhammad Ali's Pa. training camp should be historic site, new owner says
ORWIGSBURG — Mike Madden is big on sports history. He gets this from his dad, who just happens to be NFL Hall of Fame coaching and announcing legend, John Madden.
But the younger Madden was angry over the many media misstatements he heard in the immediate aftermath of boxing great Muhammad Ali's death in June, 2016. After all, those details had been drilled into his head by a father who is as big a boxing fan as he is a football one.
So much so, Mike Madden said he found himself scrutinizing postmortem media accounts of Ali's life like a fact-checker ferreting out mistakes. At one point, a fact-frustrated Madden pushed aside the media coverage of the moment, and plummed the depths of the Internet's understanding of The Greatest of All Time with meandering Google searches.
At one point, Madden's surfing washed up on a website for the Butterfly and Bee Bed and Breakfast in Schuylkill County, Pa.
This is what had become of Ali's storied "Fighter's Heaven" training camp in Deer Lake, Pa. The rural refuge where Ali retreated to prepare for all of his legendary bouts in the 1970s had become a cut-rate place for a couple's weekend getaway.
Worse yet, it was foundering even at this. The whole operation was for sale — lock, stock and barrel. It said so right on the computer screen Mike Madden was staring at.
That's when he decided there was something he could do to preserve Muhammad Ali's history.
Madden flew cross-country from California, phoning up his father from the middle of Ali's rustic training camp.
"Dad," Madden said, "We're going to have a hand in preserving his history."
John Madden growled back as only he could:
"Damn it, somebody's got to do it."
A few weeks and $520,000 later, Mike Madden had the keys to the entire training camp that had most recently been a bed and breakfast and a karate school.
Since then, Madden has spent hundreds of thousands more lovingly – and slavishly accurately – restoring the entire camp, using an archive of old photos and the advice of the business manager who brought the property to Ali in the first place, Gene Kilroy.
Take a video tour of Muhammad Ali's restored training camp:
"I think it's a calling," Madden said of the project. "I was looking for something professionally and personally. The camp was here. I am doing what I can do to restore and preserve it. I took that as my assignment."
The mosque where Ali prayed is freshly painted white. The cabins where guests and staff stayed have been fully restored. But the showplaces are the gym and sparring ring where Ali mixed sweat with showmanship, entertaining the locals even as he worked hard to get into fighting shape. And there is the cabin were Ali slept and held court from his favorite rocking chair — all as if The Champ could return at any moment.
"It was peace and tranquility," said Kilroy of the camp. "It was his own creation."
Kilroy, who sold Ali on the idea by telling him the camp would be a big tax write-off, commissioned a local contractor to put up the log-cabin-style gym. But Ali did all the finishing touches himself. His father hand-painted the big boulders lining the property with the names of boxing greats and some of Ali's opponents.
Theses days, those huge rocks are like customized clouds in "Fighter's Heaven."
"He loved it here," Kilroy said.
Far from an isolated figure who kept locals at arm's length, Ali invited people in and accepted people's invitations for dinner. He could be regularly seen running along the country roads. If someone slowed and stopped, he'd say, 'hi.'
Now, the question is how the public will be invited back in to the restored training camp.
The restoration includes having turned the gym in a museum-quality exhibit of historic photos, video clips and sound recordings — complete with the staccato delivery of broadcaster Howard Cosell calling another thrilling Ali moment.
Despite all the remarkable progress, Mike Madden isn't sure of his next move. The training camp remains closed to the public at this point, and there are no immediate plans of this changing, he said.
Madden says he feels he isn't qualified to run a museum. Still, he feels strongly Ali's camp should be officially recognized as a historic site by Pennsylvania.
Madden said he's begun preliminary discussions with lawmakers, including state Sen. John DiSanto, R-15th, who was on hand for Friday's media event, to make this happen.
After all, if Ali's training camp isn't historic, then what is?
"It is a historic site," Madden insisted during a media tour of the restored camp Friday. "This is where it happened. It's all here. Ali was here. And it needs to be preserved."
In Pennsylvania, sites must be at least 50 years old to become eligible for historic designation. Ali's training camp, which Madden has officially dubbed "Fighter's Heaven," celebrates its half-century birthday in 2022.
Madden is counting down to the date.
"We are zeroing in on it," he said. "That part will come. The site certainly deserves the recognition. That would be a feather in our cap."
Meanwhile, Madden and his team are working with DiSanto and local school superintendents to open the camp for middle school tours.
This is the next goal – handing down Ali's legacy of transcending sports, race, religion and culture to become a historical figure of the 20th century, as well as an all-American icon.
There is much to learn by coming here.
Just ask Dave "Whitey" Williams, a long-time local football coach and teacher.
He skipped school back in 1974 to come here when Ali was in training. A 16-year-old Williams and some friends arrived to find Ali cutting wood. They met their idol, who promptly invited them to breakfast.
Such was Ali's hospitality. Training was never so important as to skip social graces – or fun.
"It was his spirit," Williams recalled of Ali. "His enthusiasm. Just his personality."
The Champ found a way to turn the hardest of training environments into entertainment. He surrounded himself with people who could have fun, even while they were pressing Ali to the grindstone.
Williams learned this here, and it would affect his own athletic and coaching career.
"You've got to make things fun," he declared.
Surely, Ali's jovial, smiling spirit is as real yet ethereal as the morning mist shrouding his favorite mountain. It's everywhere, but cannot be touched.
NOTE: This story has been updated to provide an estimate of the restoration's cost.
Watch Mike Madden describe his emotional decision to restore Ali's camp: